Project summary
Environmental Working Group (EWG) is an influential non-profit organization that has published groundbreaking research on environmental health. Several years ago, they asked us to use our LCA tools, database and expertise to generate definitive results on the relative carbon footprints of a wide range of food commodities.
Systems modeled in the study
We modeled the full cradle-to-grave life cycles of 25 major food commodities, including typical food waste and cooking. Overall we conducted life-cycle assessments (LCAs) on 53 actual product systems in order to calculate average life-cycle impacts for the 25 commodities. This includes meats such as beef, lamb, poultry and seafood. The list also includes dairy products such as milk, yogurt and cheese, and plant-based foods such as beans, rice, vegetables and tofu.
LCA tool and LCI database
We used our comprehensive food/agriculture LCA tool, FoodCarbonScope, to conduct the LCAs in this project. The life-cycle inventory (LCI) database underlying the analysis is CarbonScopeData.
Results
This graphic from EWG summarizes the relative carbon footprints of food commodities in terms of car miles driven.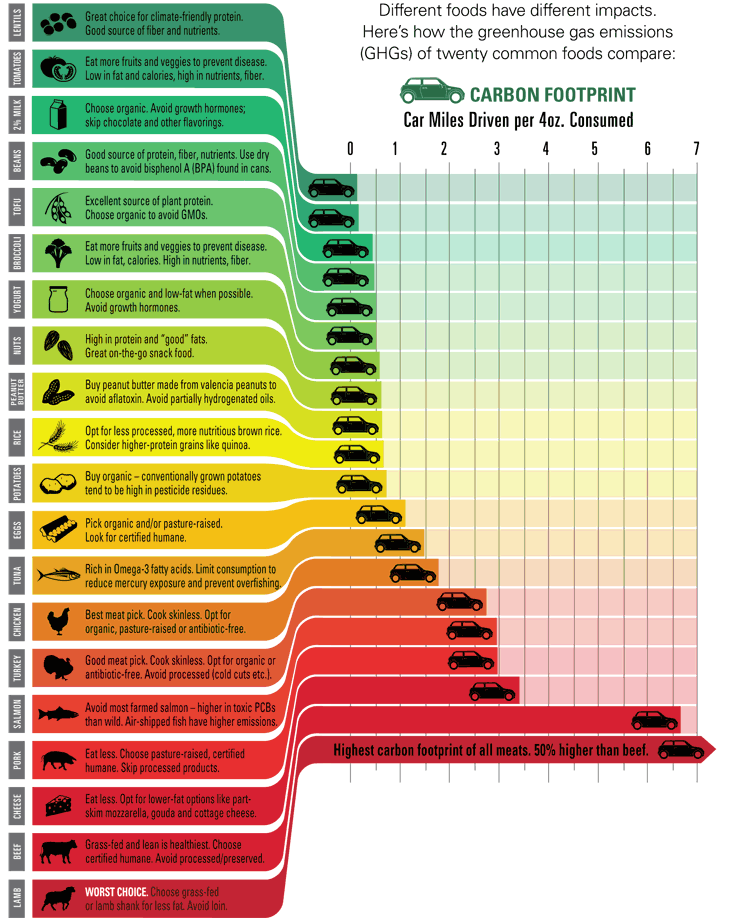 Detailed report
https://static.ewg.org/reports/2011/meateaters/pdf/methodology_ewg_meat_eaters_guide_to_health_and_climate_2011.pdf